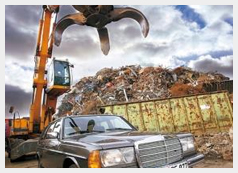 Do you have any idea that the junk car you have in your back yard or garage can earn you money without any hassle or worry to you. Many people have sentiments attached to their old cars that prevents them from giving it up. But actually this is not at all a wise decision. These junk vehicles not only look unappealing, but also occupy a huge space in your garage that can be put to better use.  Leaving these junk automobiles as such may also prove hazardous to the environment and also to the people around us. If you are thinking of disposing the junk or damaged car, you are on the right path. Just go ahead with your decision. We are one of the leading car crushing companies in Alberta. We are known for providing car crushing services in Edmonton, Beaumont, Bonnie Doon, St. Albert, Sherwood Park, Stony Plain and Leduc. We offer you our best possible service in the form of junk car removed for cash at your location with a claim of 100% customer satisfaction and 24 hour excellent customer care service. We also extend our service to you for free junk car removal process with a fair payout value for your unused junk vehicle lying idle in your backyard. You can be paid off a good price for your damaged vehicle or junk car. All you have to do is to call us. We will take all care to remove your car and pay you a genuine price consideration for your old car on the spot. You need not to drop your car at our location. Once we receive your call we will give a free junk car removal quote to you. Then your scrap vehicle will be taken away in a timely manner by our representative and pay you cash immediately for your old car.
At times it happens that your scrap car occupies all the space of your scrap yard, while you really want to get rid of it. However It is good if you are getting some money instead for the old clunker. Plan accordingly if you want to haul away the beast in your driveway. We can assist you by buying your clunker. Our efficient team can help you out with the proper disposal of your scrap auto and provide professional car crusher services.
We are expert car crushers in Alberta, functioning for many years with great experience in the field. Apart from junk cars removal, we also offer you cash for removal of flooded vehicle, damaged cars, crashed cars, old car parts, etc. Just dumping your junk car in your back yard makes no sense as this may attract a penalty in some countries, or may frustrate you with your neighbor's complains. Recycling your junk auto or selling junk cars for cash is the most viable solution to all your problems. To prevent happening any of these tensions, you can exchange your junk car for money with us and stay relieved.
We have also engaged ourselves in car crushing services. The car crushing system we are following is environment friendly. The method of recycling the same is also eco-friendly. We dedicate our service to this line with so many years of research and experience and claim that we are the leading one in this line of business with the fast and furious service. We have so much experience to guide you right to remove your car that is not for your use any more. Cash for car is an overall solution to end up all your problems regarding disposing your junk car. We are the experts in Canada in removing junk cars, car crushing services and happy to assist you to get rid of your old junk car. Our representatives offer you top dollars for your scrap and junk car and valuing your car after considering each and every part, make and  model evaluation also. While comparing with the cash payout you receive from Cash for Car Canada, you will find that we are the best paying companies in this industry. You should keep the receipt against the cash for your future reference. With the wide range of services we also render services like buying junk cars for cash, insurance write off vehicles, commercial vehicle disposal, used auto parts, abandoned vehicle towing, salvage auto services, car crushing services and more.